Wed, 29. Jun. 2022   Khodijah, Anna
SITM papers on "The Silver-lining Role of Cultural Diversity in Project Success" and "Ethnographic Study on Cultural Diverse Project Team" were accepted in the EURAM 2022 Conference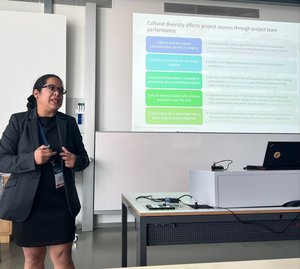 We are pleased to inform you that two papers from Anna Y. Khodijah have been accepted in the European Academy of Management (EURAM) 2022 Conference.
Her paper "The Silver-lining Role of Cultural Diversity in Project Success" was presented in the "SIG-10 Project Organisation" track.
In addition, her second paper "An Ethnographic Study on Cultural Diverse Project Team" was featured in the Doctoral Consortium session.
The EURAM 2022 Conference took place in Winterthur, Switzerland, on June 13-17, 2022.
The conference focuses on the theme "Leading the Digital Transformation" to explore the opportunities and challenges of digital transformation. The extensive and varied conference program looked at the various topics in the management research domains, for example, project management, cultural diversity, and team performance.