IT-Management im Zeitalter der Digitalisierung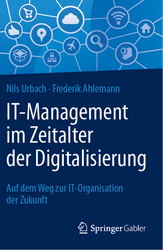 The book discusses the dramatic changes businesses have experienced as a result of digitization. Technological innovations have had a significant impact on processes, products, services, and business models. The resulting digital transformation has had disruptive consequences for many companies and domains. Nevertheless, many IT-organizations have to date only focused on translating the departments' requirements into quality IT-services that are as effective and efficient as possible and on running them. Currently, these departments are increasingly required to participate in shaping the entire company. Information technology realizes innovations for the business, which means the IT-organization has to cooperate proactively and fast with the departments to launch these innovations. This book shows the implications that digitization has for today's IT-organizations, their structures, and processes. It also addresses IT-executives, managers with IT responsibilities, and academics with a practice-oriented focus, helping them not only react to digital transformation, but also take a proactive role.
Get book
Strategic Enterprise Architecture Management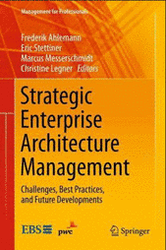 The Enterprise Architecture Management (EAM) discipline deals with the alignment of business and information systems architectures. While EAM has long been regarded as a discipline for IT managers, this book takes a different stance: It explains how top executives can use EAM to leverage their strategic planning and controlling processes, as well as how it can contribute to their sustainable competitive advantage. Based on the analysis of best practices from eight leading European companies from various industries, the book presents the crucial elements of successful EAM. It outlines what executives need to do in terms of governance, processes, methodologies, and culture in order to bring their management to the next level. Beyond this, the book points out how EAM could develop in the next decade, thus allowing today's managers to prepare for the future architecture management.
Get book
Strategisches Projektmanagement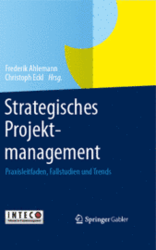 The book describes in detail how to introduce an organization-wide project management focusing on the management of medium to large project portfolios. Readers without any prior knowledge can learn to develop and implement binding project management processes and methods in the three stages: standardization, centralization, and professionalization. Beyond this, the book explains which particular soft success factors have to be considered and how the top management can help anchor project management. A separate chapter is dedicated to the trend towards a project-oriented economy and how executives can prepare for this. Comprehensive case studies of leading organizations in various industries complete the book.
Get book