Fri, 25. Nov. 2022   Karger, Erik
BAS/ditlab/SITM Research Colloquium in Frankfurt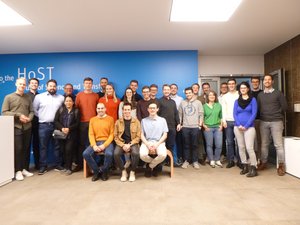 On Monday, 14.11.2022, the Chair of Information Systems and Strategic IT Management participated in a research colloquium at the Frankfurt University of Applied Sciences.
This colloquium was attended by 31 participants, which are PhD students as well as PostDoc and Professors from four institutions. The participants came from the University of Bayreuth, the University of Duisburg Essen, the FernUniversität Hagen and the Frankfurt University of Applied Sciences.
Prof. Nils Urbach (Frankfurt University of Applied Science) as the host of the colloquium opened and led the entire session. Together with Prof. Frederik Ahlemann and Prof. Stefan Smolnik (University of Hagen), he moderated the discussion with participants.
All presenters introduced their papers in a few minutes, followed by a discussion with the participants who had read the papers in advance. The feedback included content- and method aspects, as well as publication strategies.
Two of the eight papers discussed in the colloquium were presented by the UDE-SITM Team. Prof. Frederik Ahlemann presented an extended abstract titled "Towards a Research Program on Personal Productivity" and Anna Khodijah, M.Sc. presented a research-in-progress paper entitled "An Ethnographic Study on Cultural Diverse Project Teams".
The colloquium was perceived well by the participants who are looking forward to attending the next colloquium, hopefully in the year 2023.